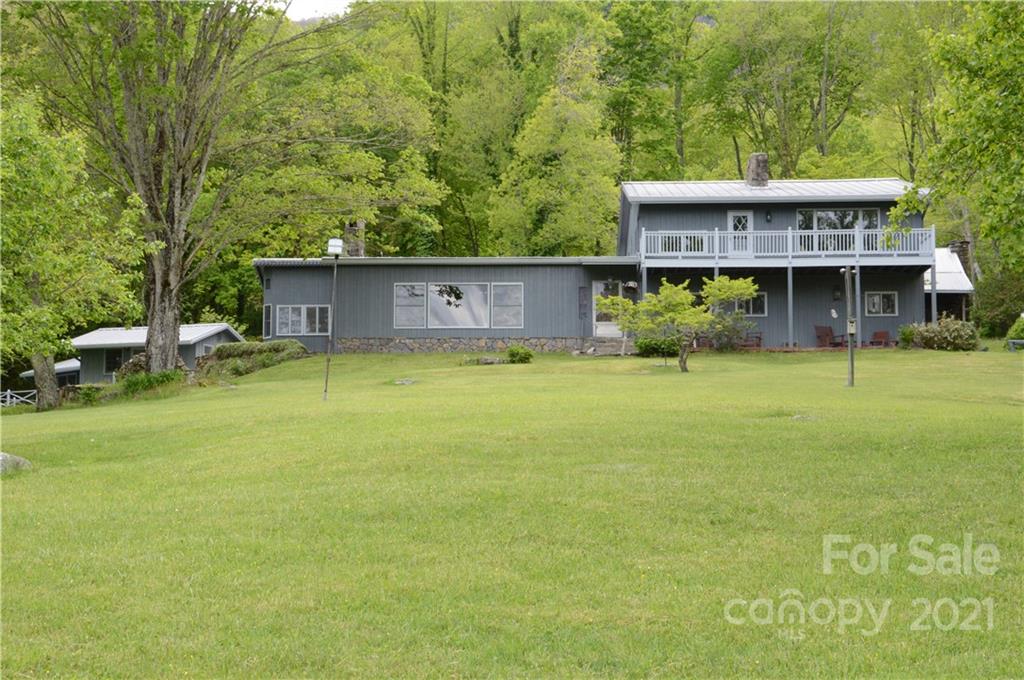 Hickory Springs mountain lodge with massive view windows, metal roof, rockwork base and fireplaces.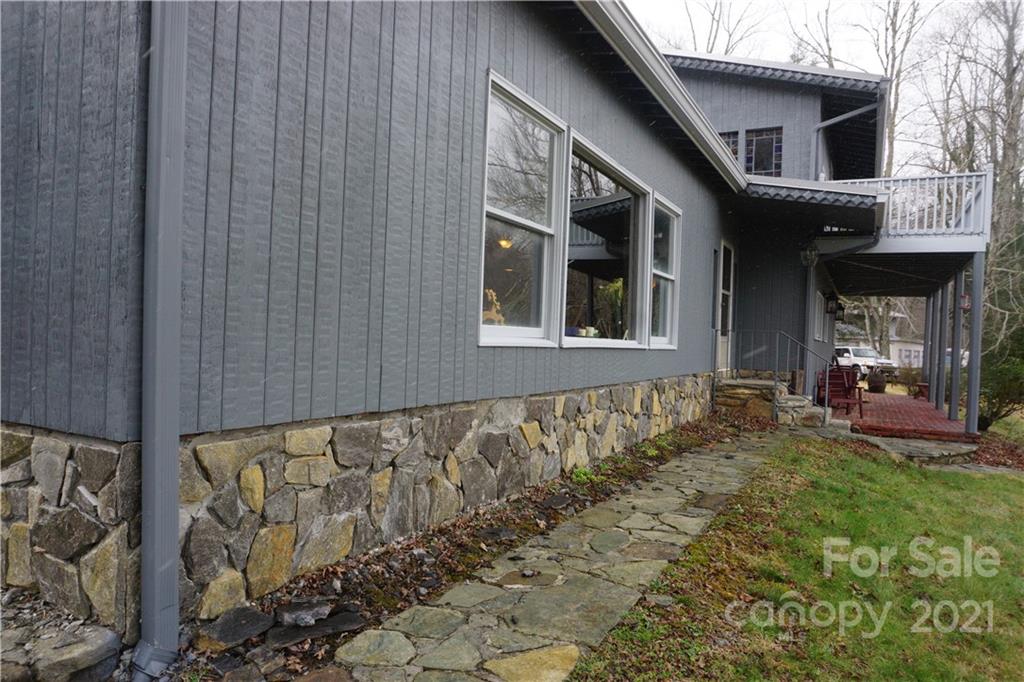 Front face of the lodge with rockwork base surrrounding. Covered porch and upper Master Suite deck.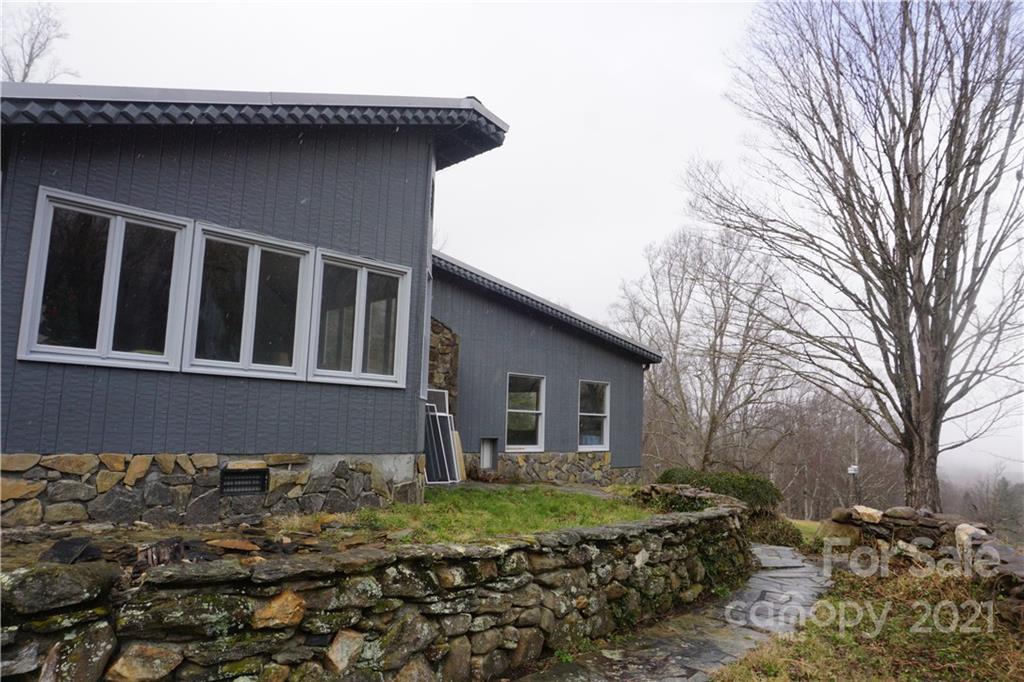 Sun Room wrap around view windows to the left. Mica rockwork walls and pathways. Closest town is Micaville. Mica quartz plant at the foot of the mountain.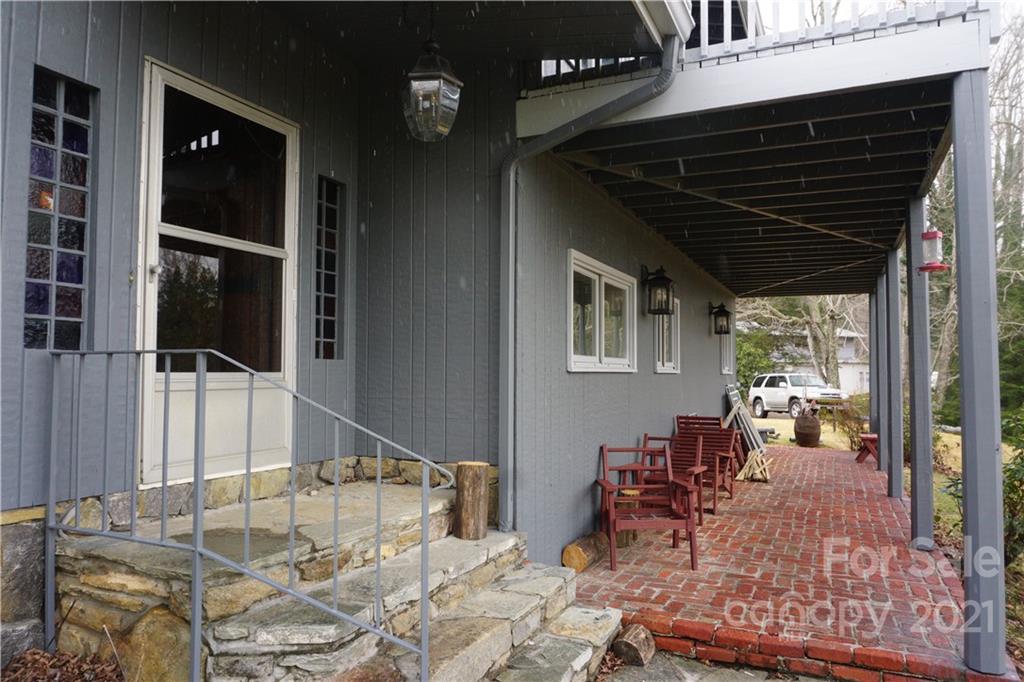 Rockwork front step with red vintage brick under porch. Stained glass windows for sidelights.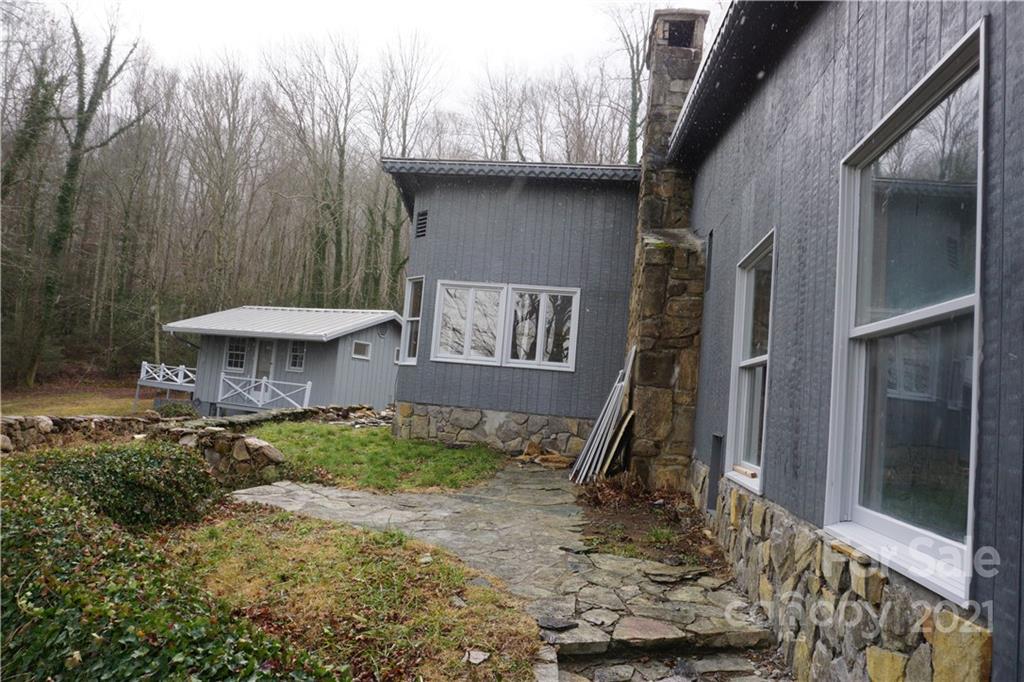 Winter view of lodge and 1 cabin following complete complex repainting in 2020.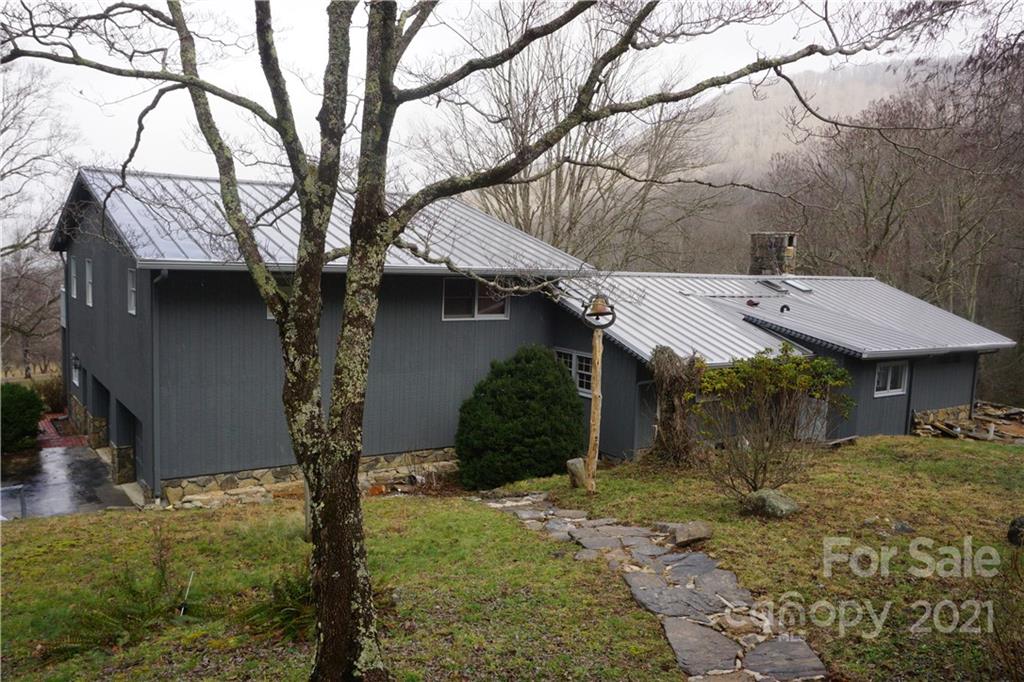 Back view of lodge with walkway up to the log cabin. Quality metal roofing.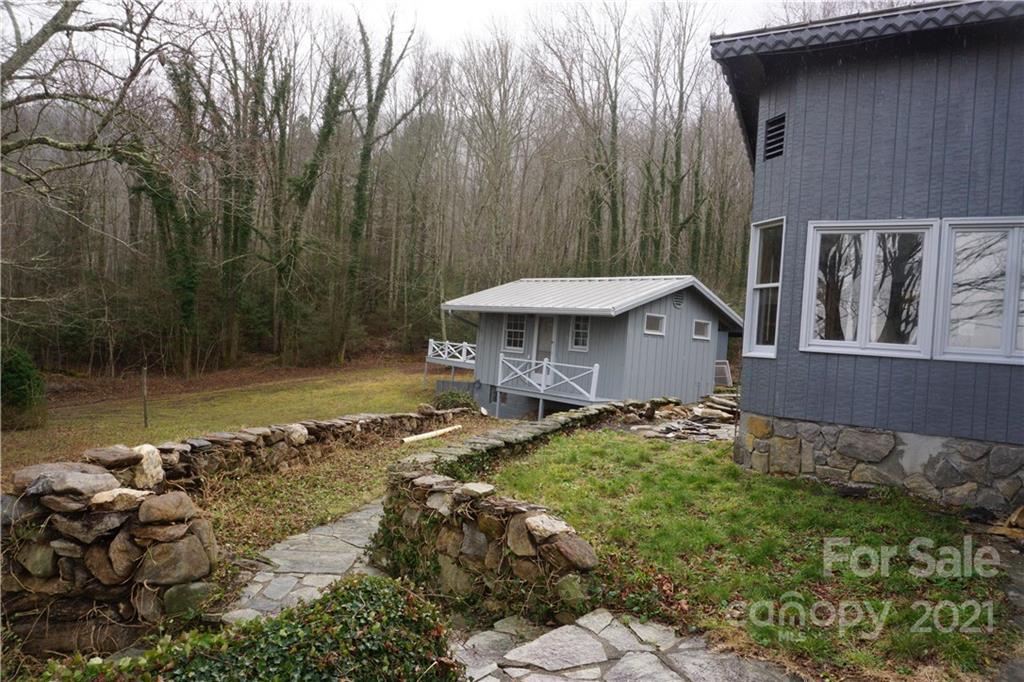 Rockwork walkways to secondary cabins.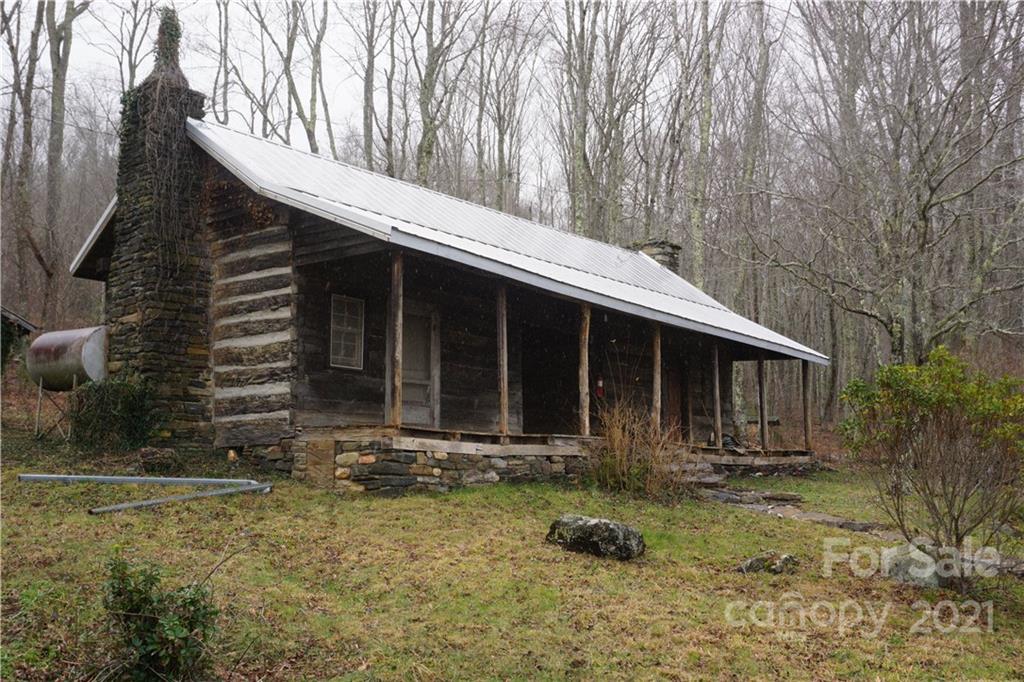 1800's log cabin behind and uphill from main lodge.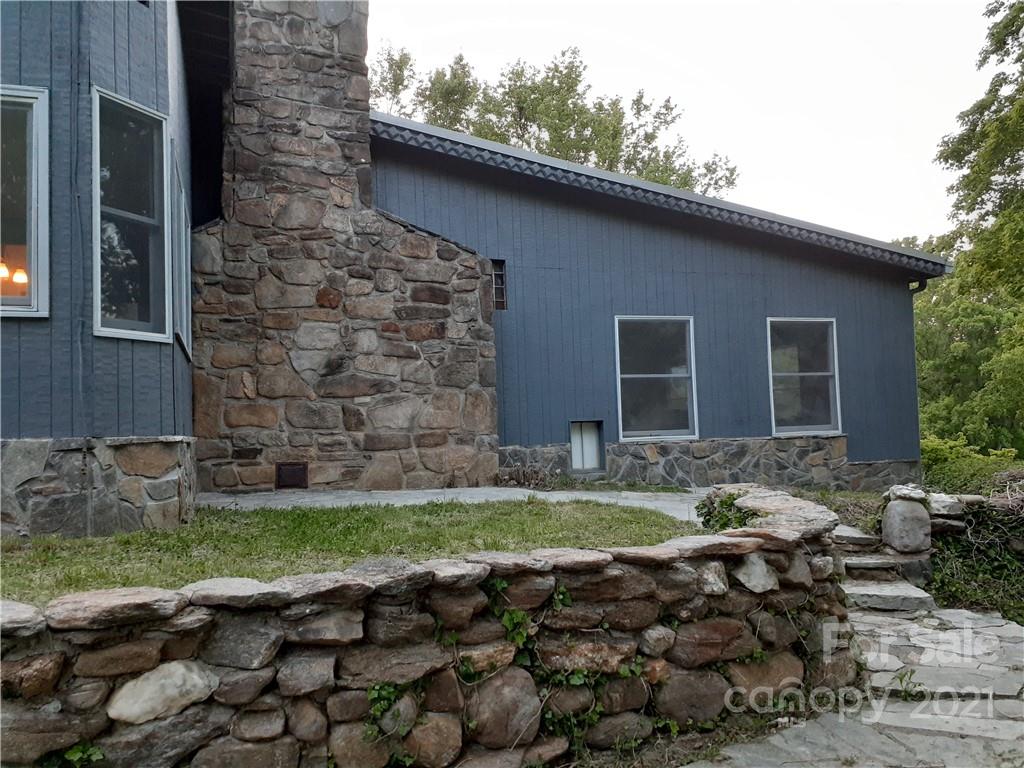 Exterior of massive living area fireplace and south faced oversized view windows.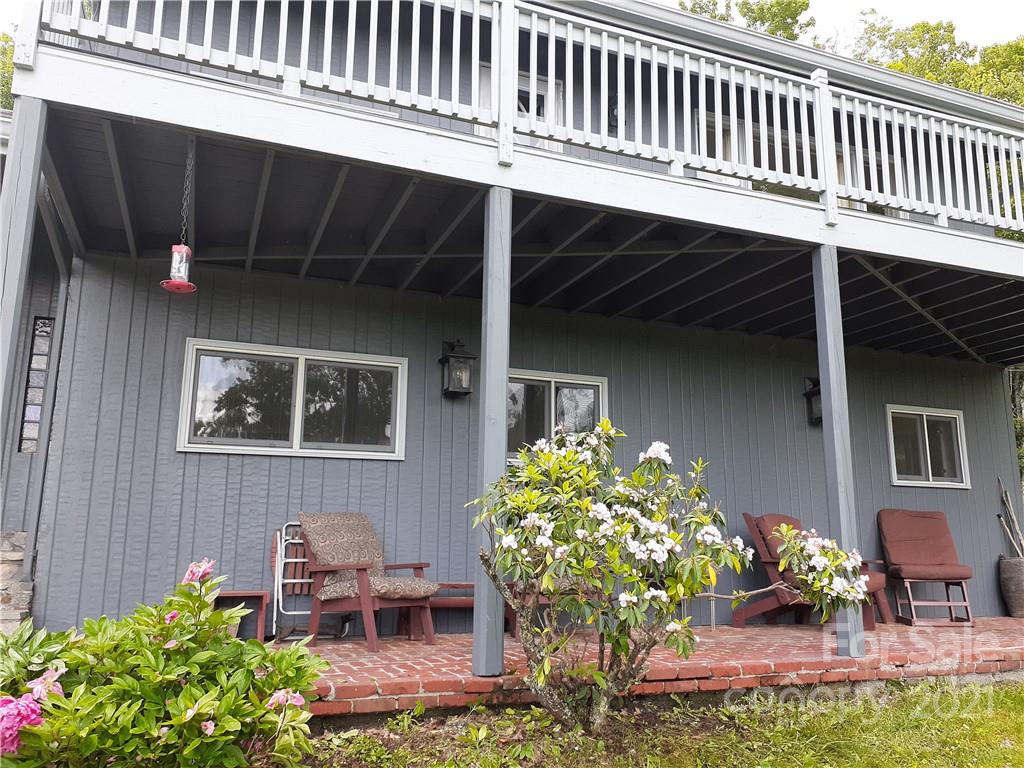 Early summer on the front porch, flowers in bloom.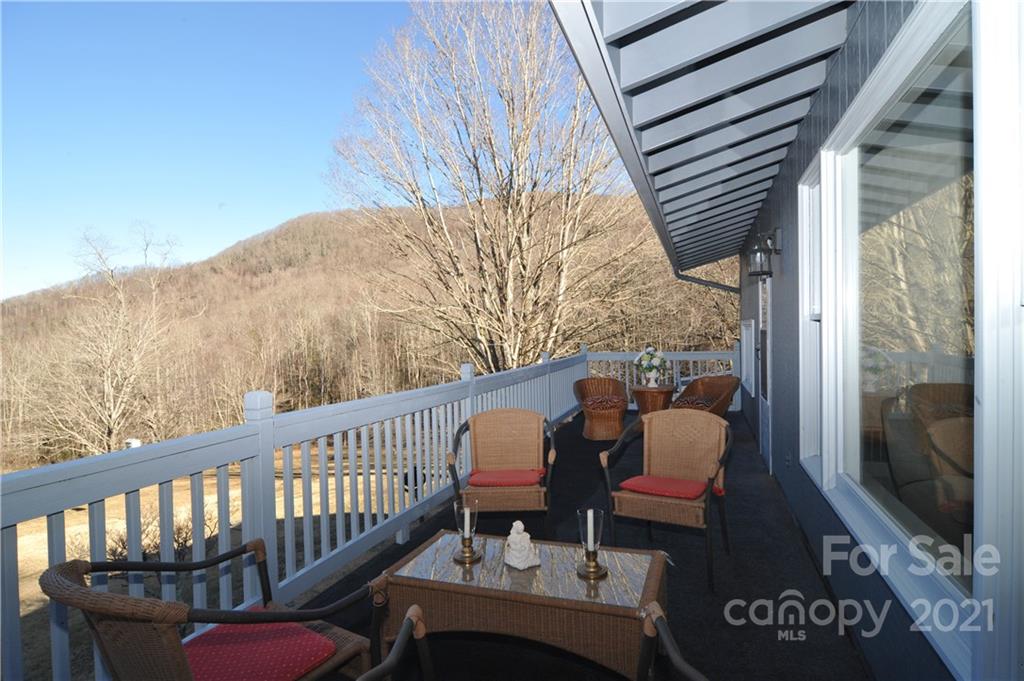 South view from the upper deck with seating.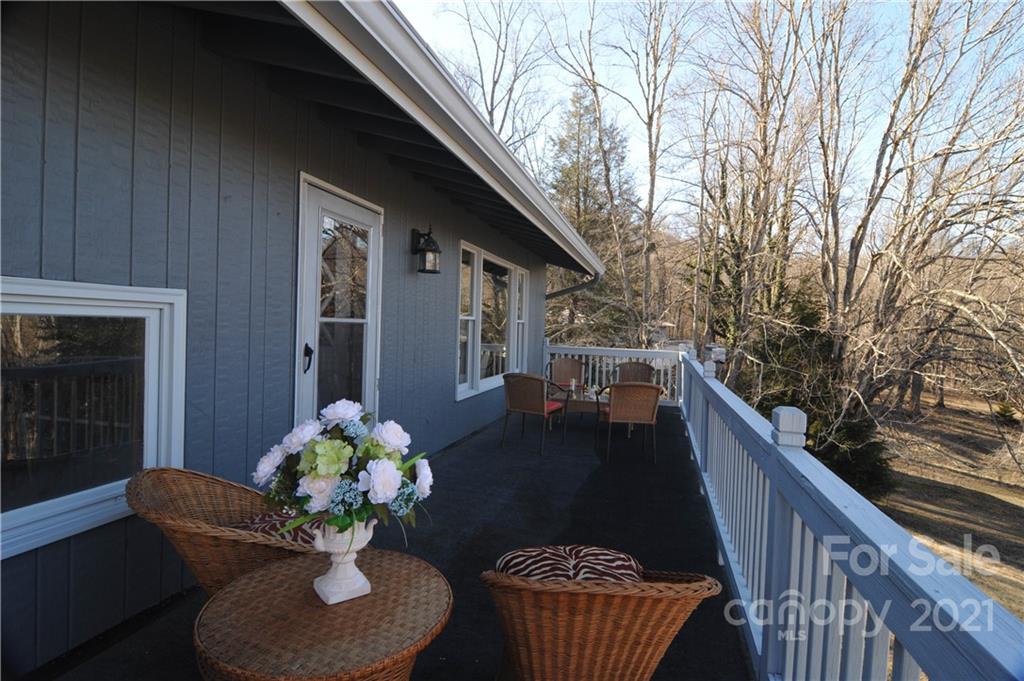 North view from the upper Master Suite Deck.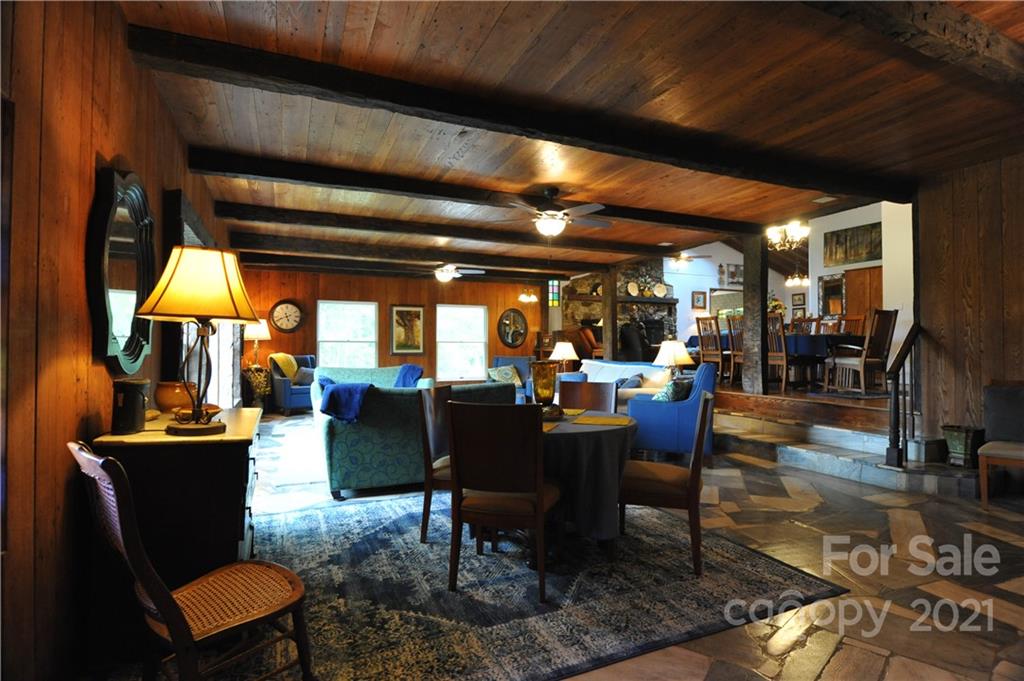 View from the Entry Door of the main lower living area, wormy chestnut paneling, cherry beams, slate floors.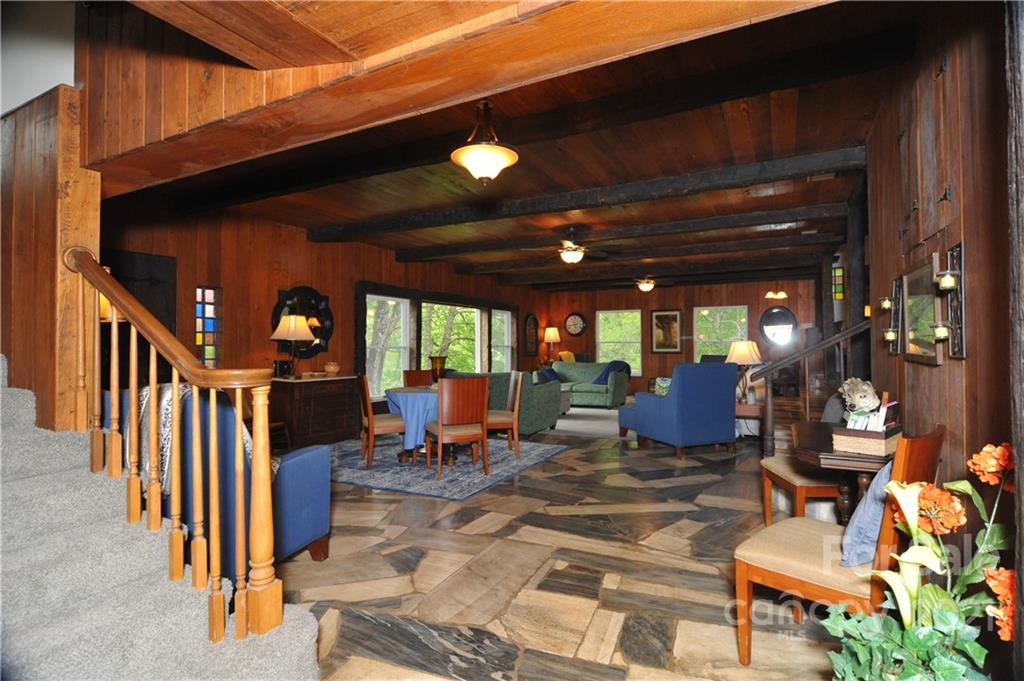 View from the garage entrance door. Stairwell to the left leads to the Master Suite. New nylon carpet on stepsand Master Foyer.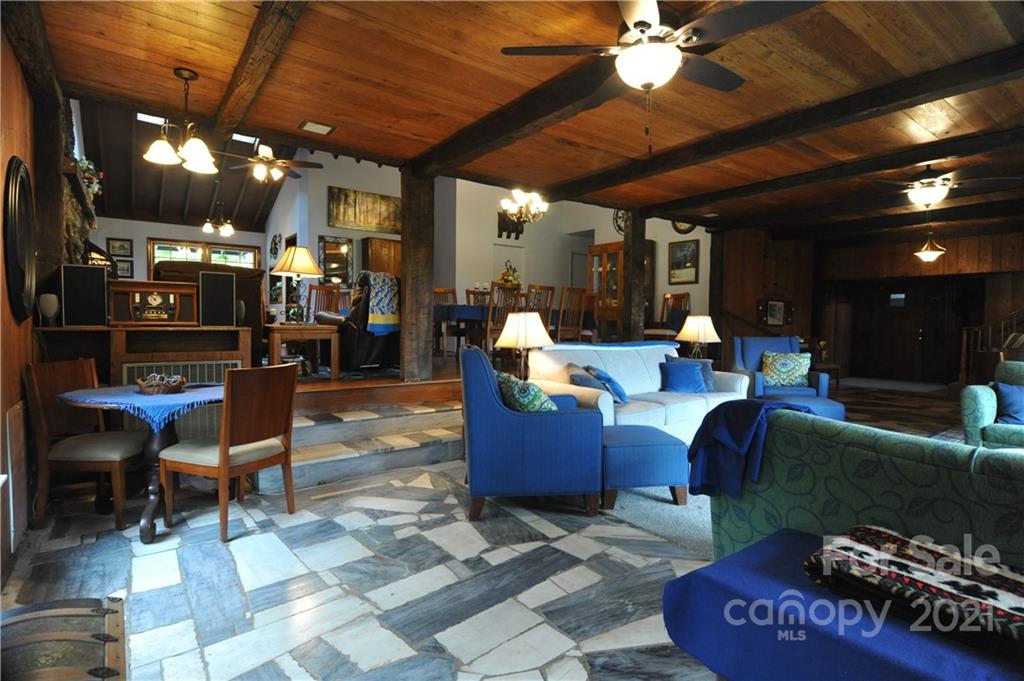 View from the Southeast corner of the lower living area. 2 steps lead up to the elevated dining and fireplaceareas.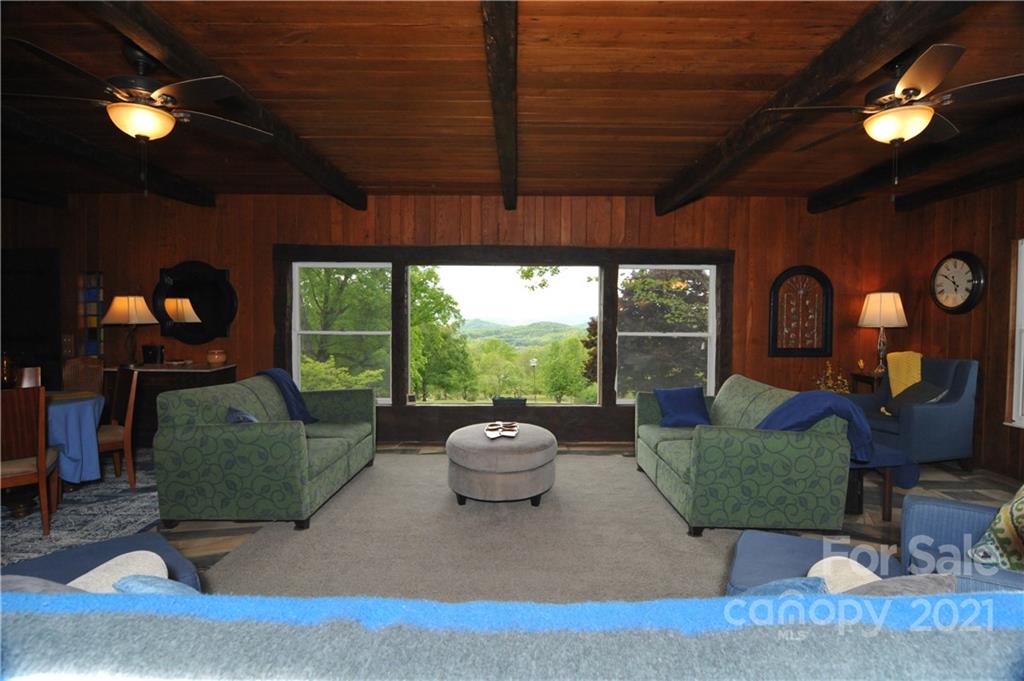 Extensive window centers the main lower living area. Ceiling fans throughout the living areas.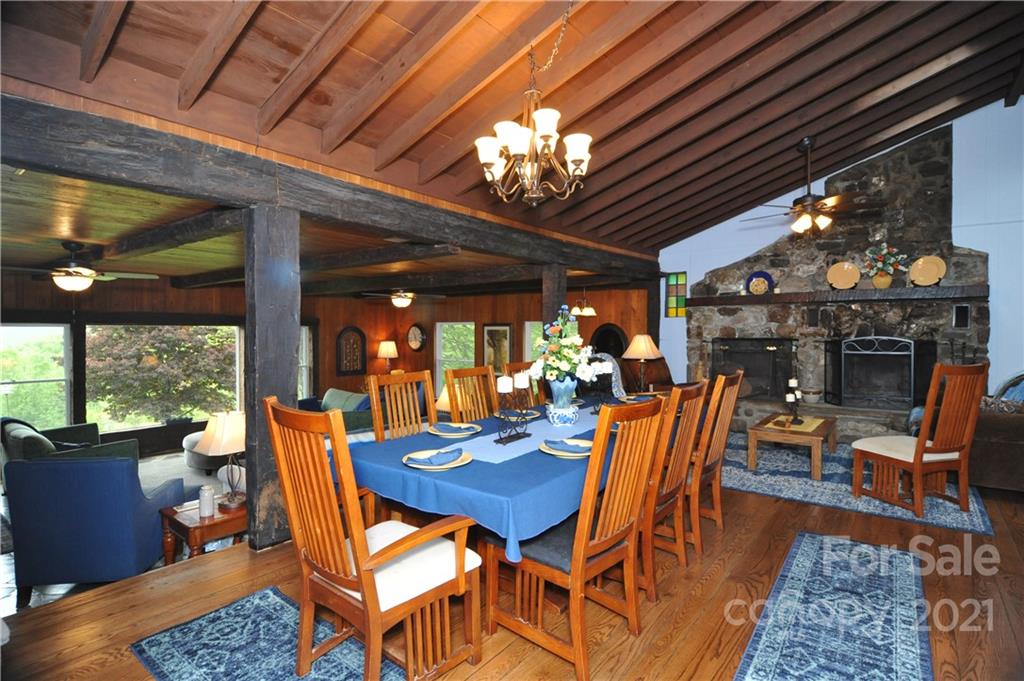 Upper living area with hardwood ceiling and lovely hardwood oak floors, just refinished. Room for a 10' diningtable and seating area around tall rockwork fireplace.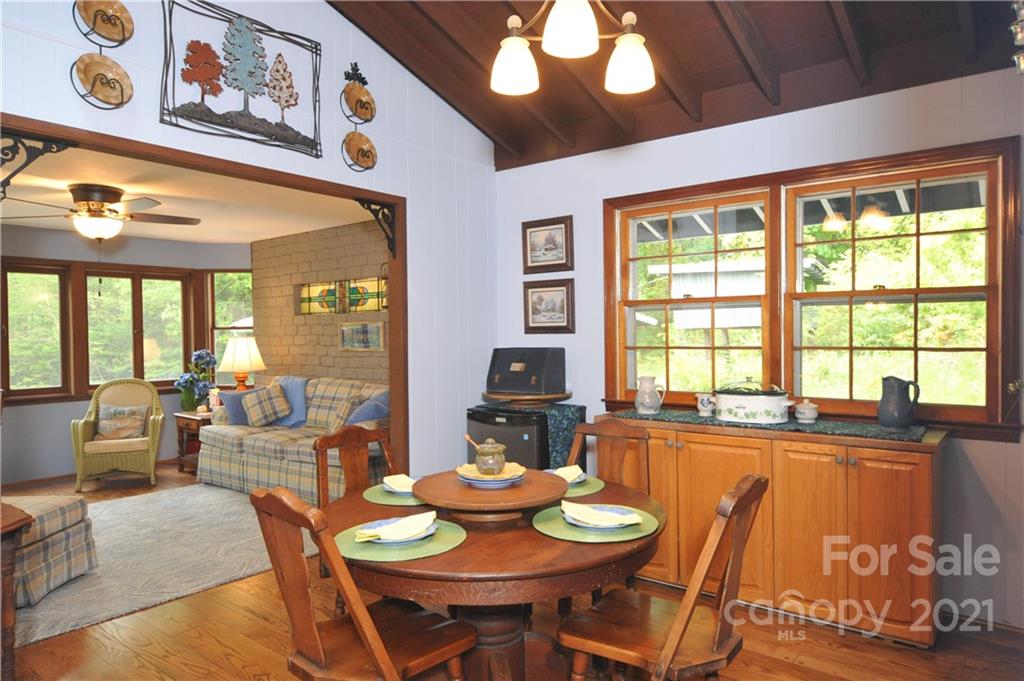 Breakfast area next to the Fireplace area with large windows viewing back of lodge.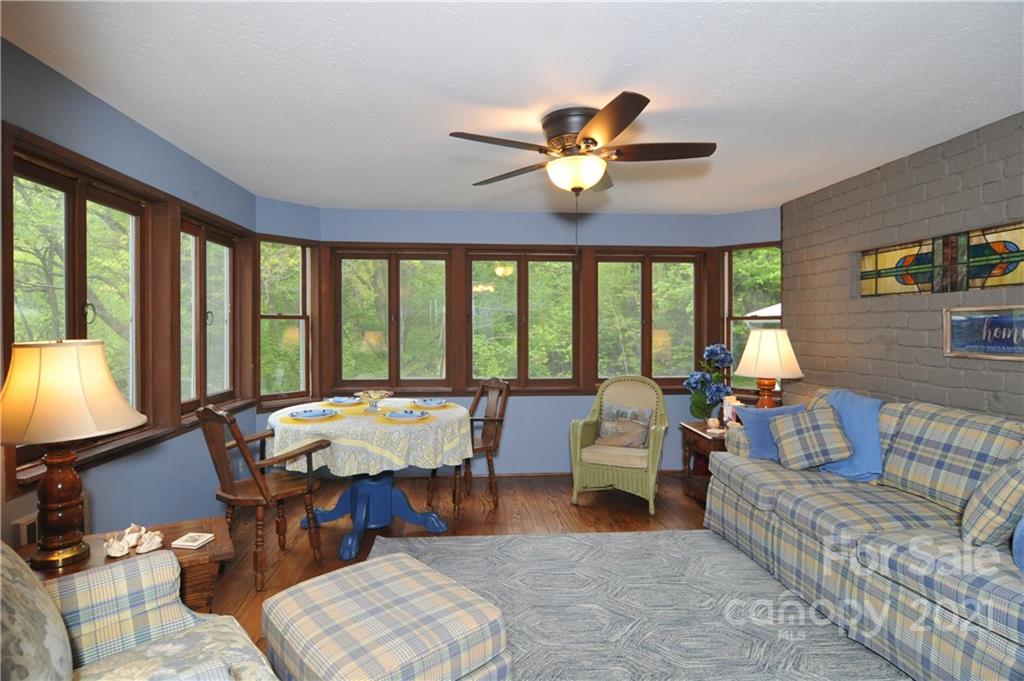 Beautiful sunroom with wraparound windows and stained glass artwork.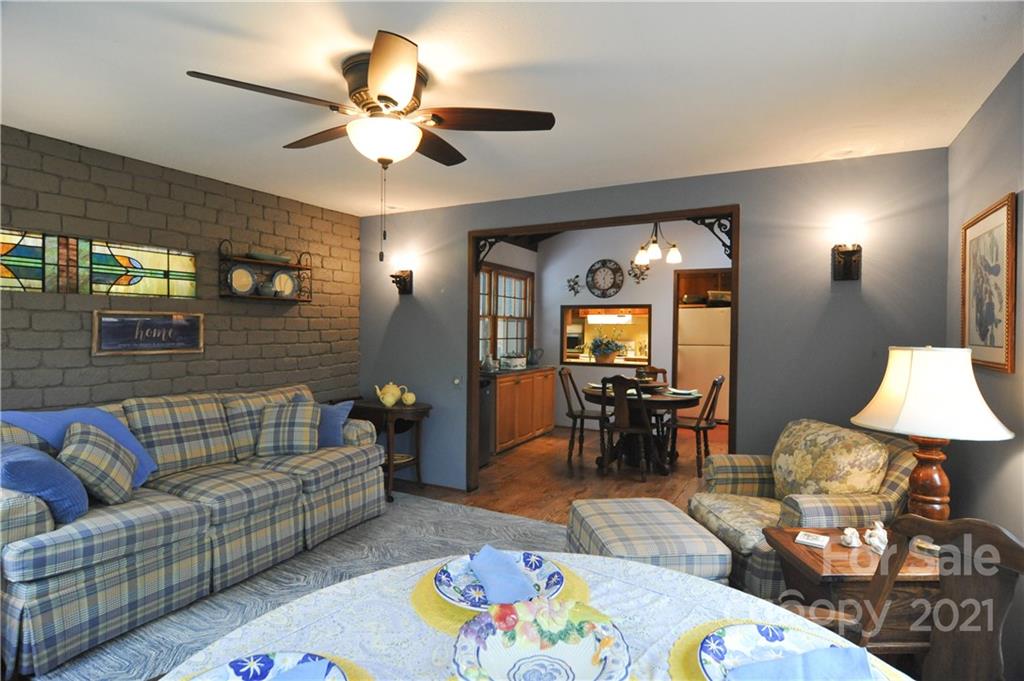 Breakfast or dinner table with an east and south view of the property.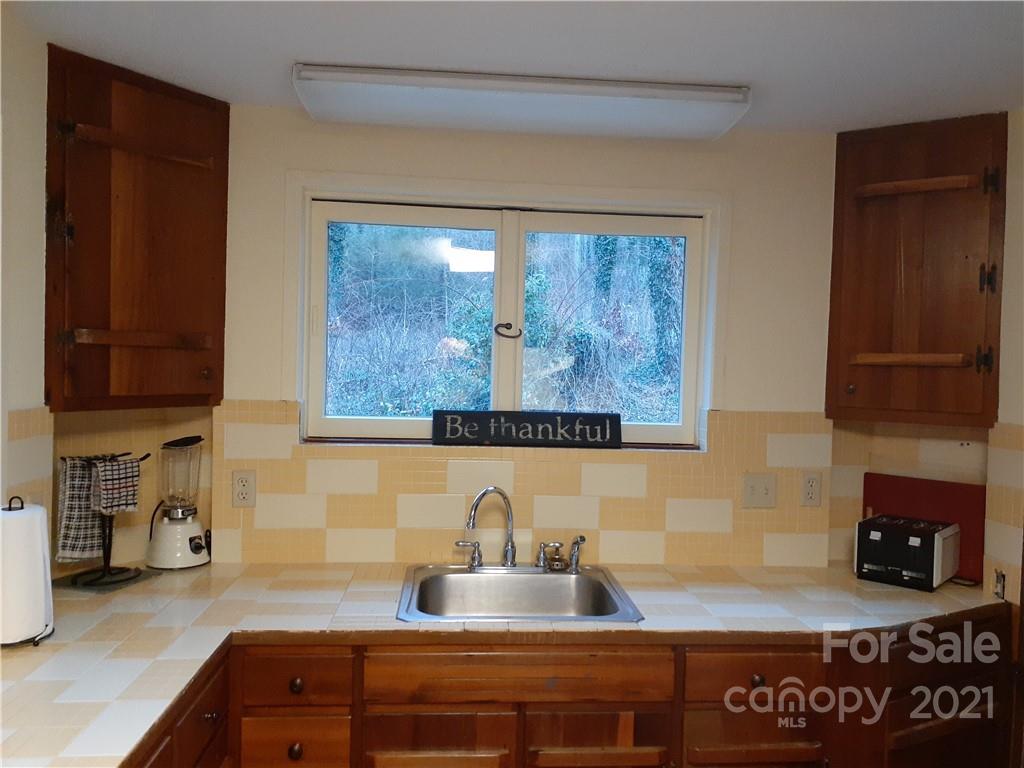 Kitchen sink with west view uphill to Celo Knob. Vintage cabinets and tile tops. New Smartcore Travertine vinyl flooring.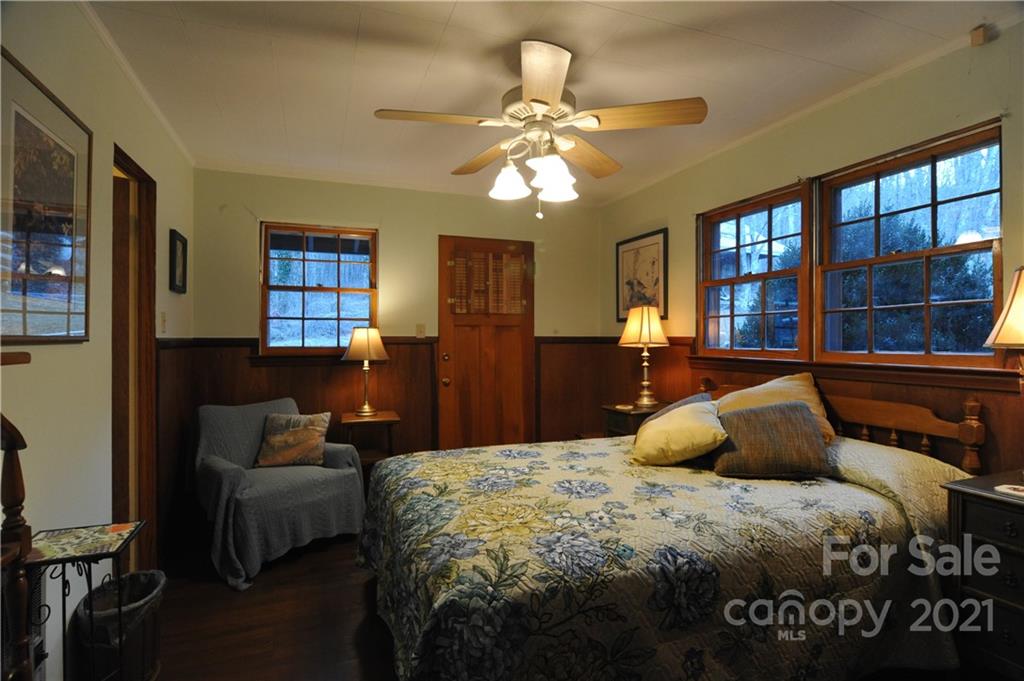 Downstairs bedroom with rear door to walkways. Bathroom door to the left.
Guest Bedroom with partial paneling, vintage furniture and lighting, wood flooring.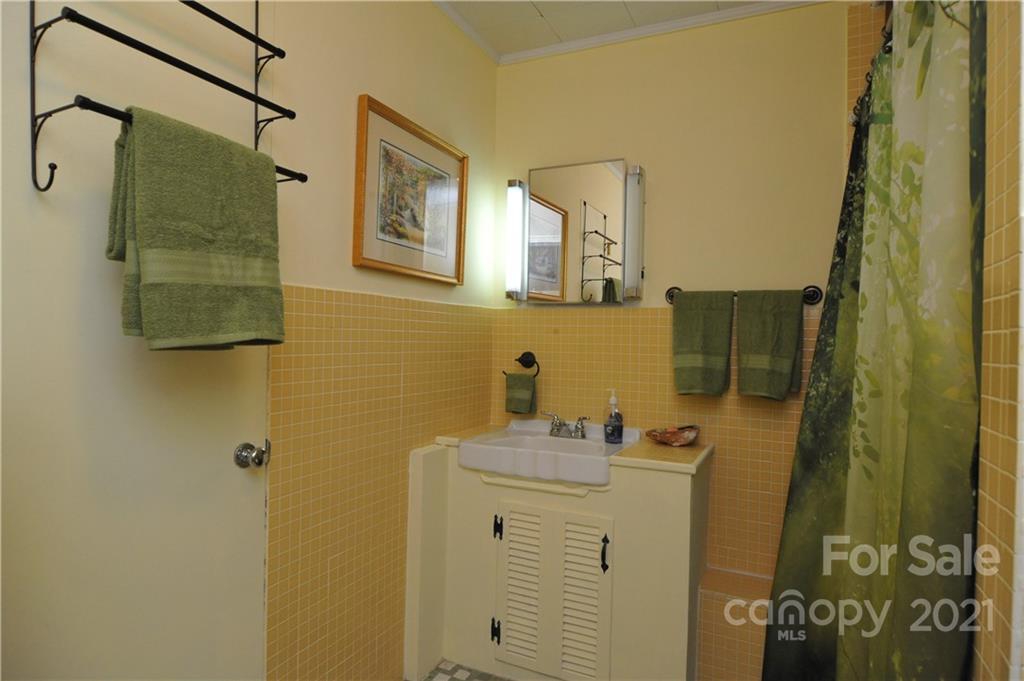 Guest Bathroom with vintage yellow wall tile and green and white ceramic small square tile.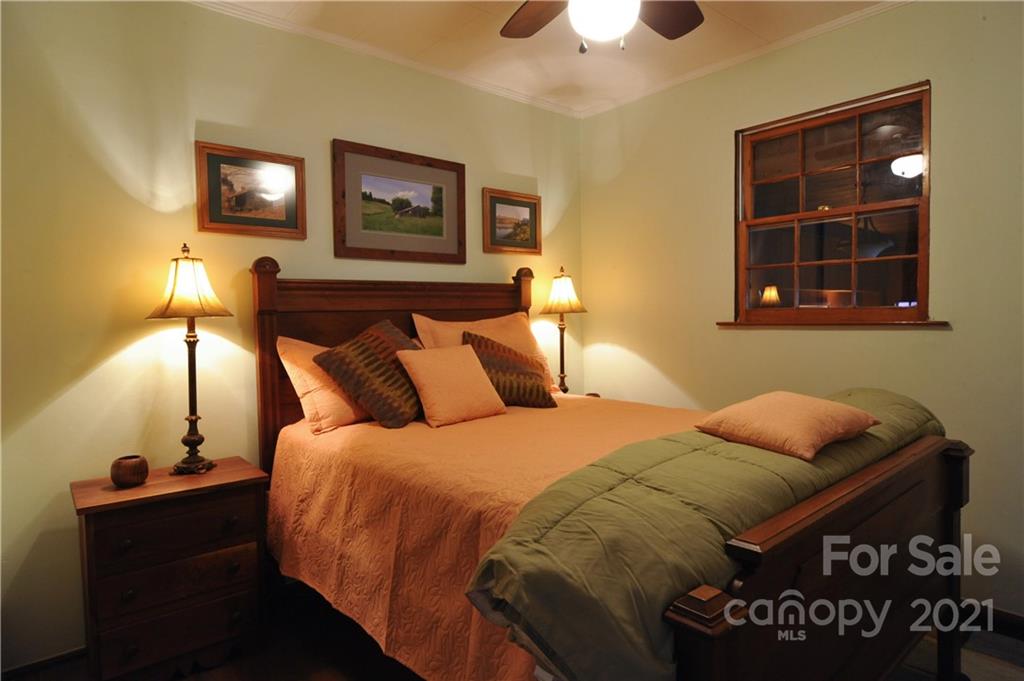 Small bedroom next to Guest Bedroom, ideal for children. Sliding door closet in room.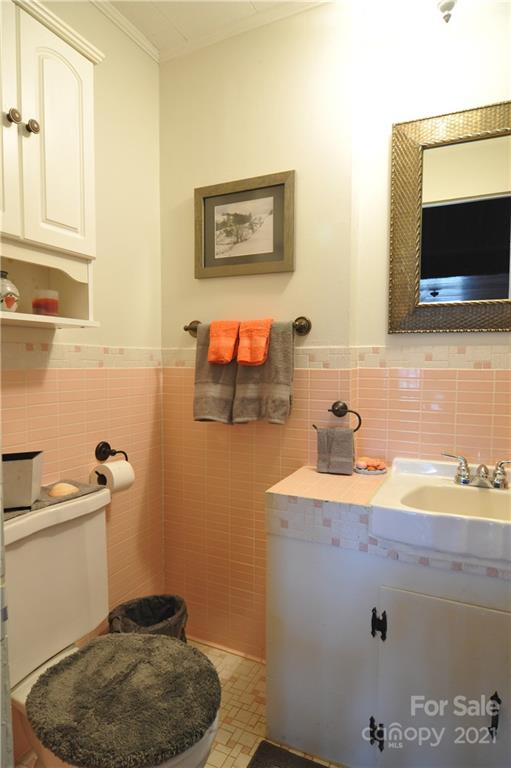 Half bath opening into dining area.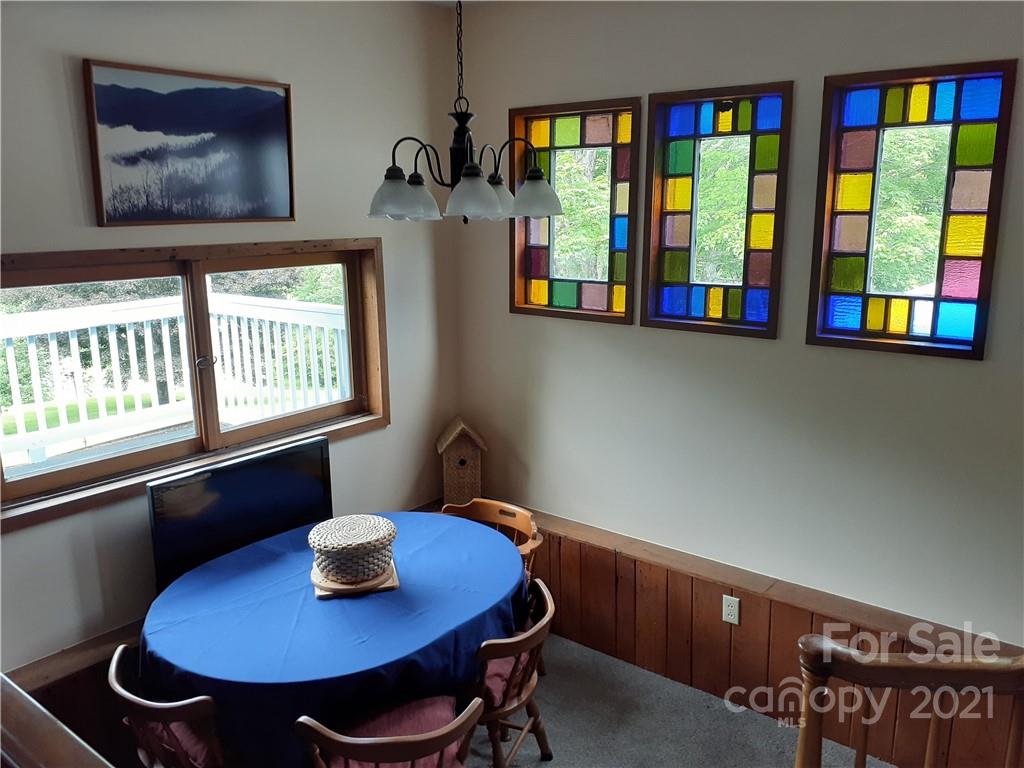 Stairwell Foyer with a view and beautiful stained glass windows. Game table with game shelves at the top ofthe stairs.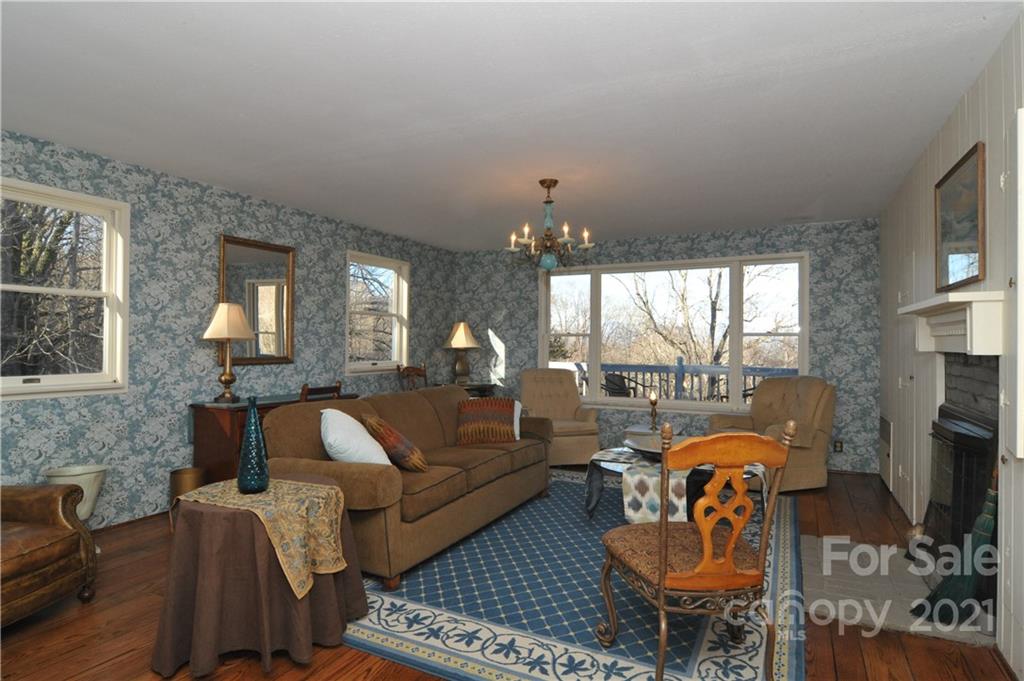 Sizable Master Suite with oversized view windows, both front and side. Room for seating area faced to fireplace.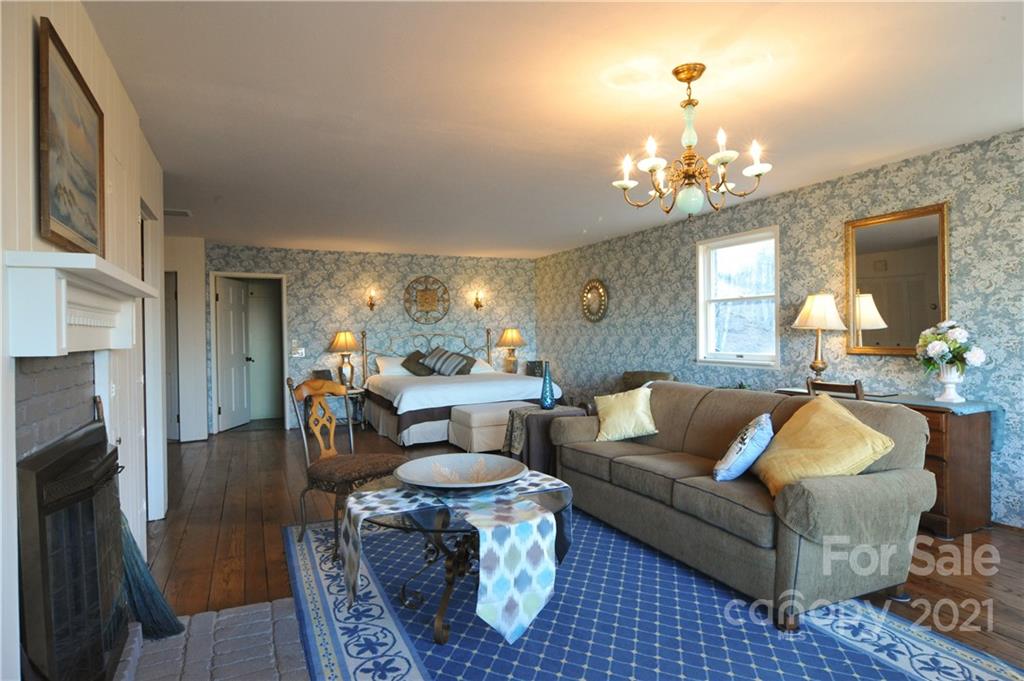 Master Bedroom with king bed and same lovely recently refinished oak hardwood floors. Antique chandalier matches classic wallpaper.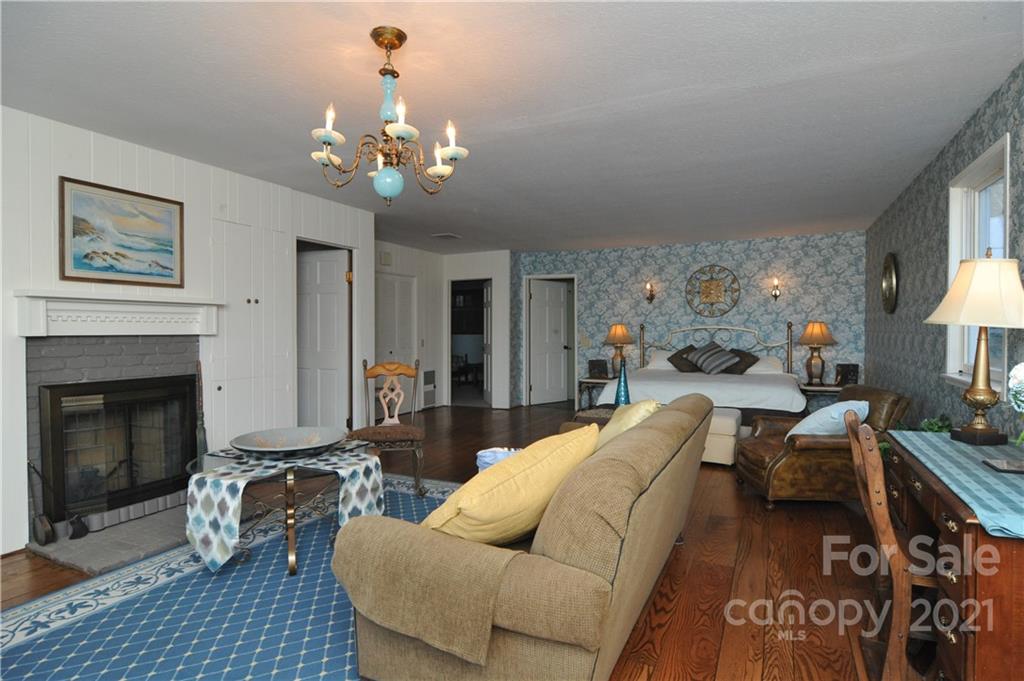 Doors in Master Bedroom left to right: Upper Foyer, Master Closet, Study, Master Bath.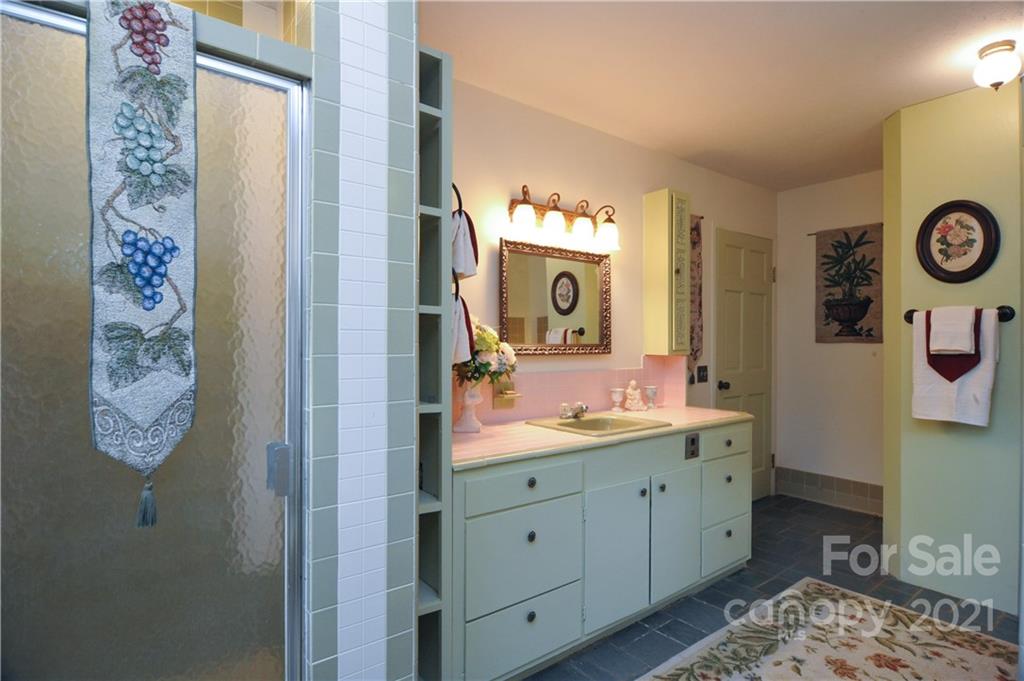 Sizable Master Bath with shower, tub, jacuzzi.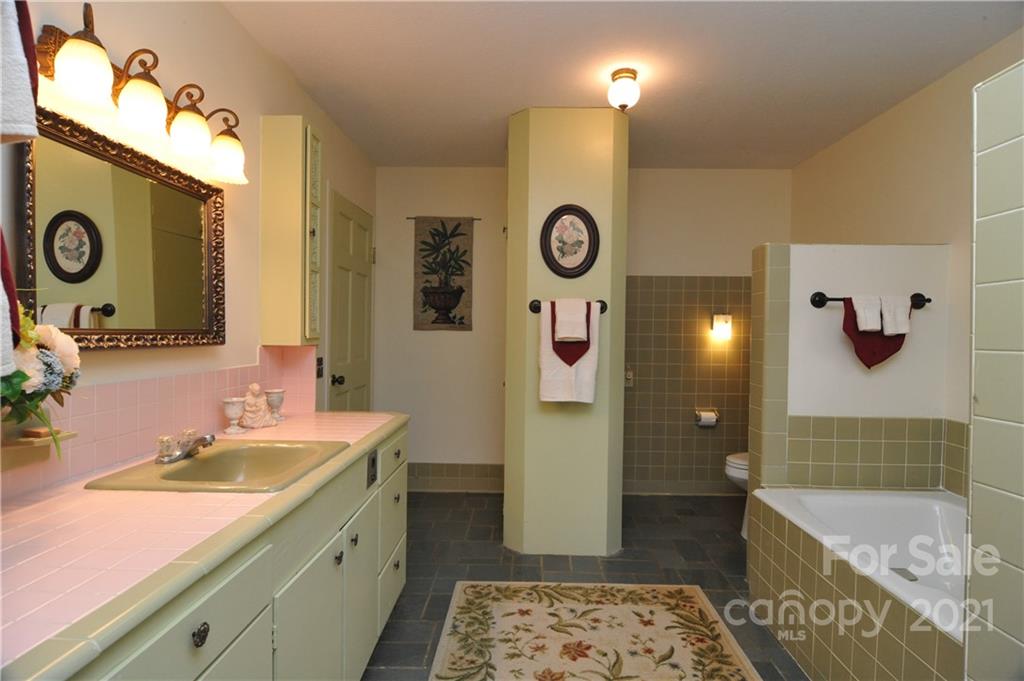 Semi private commode area, slate floors, tall linen cabinet faced to door.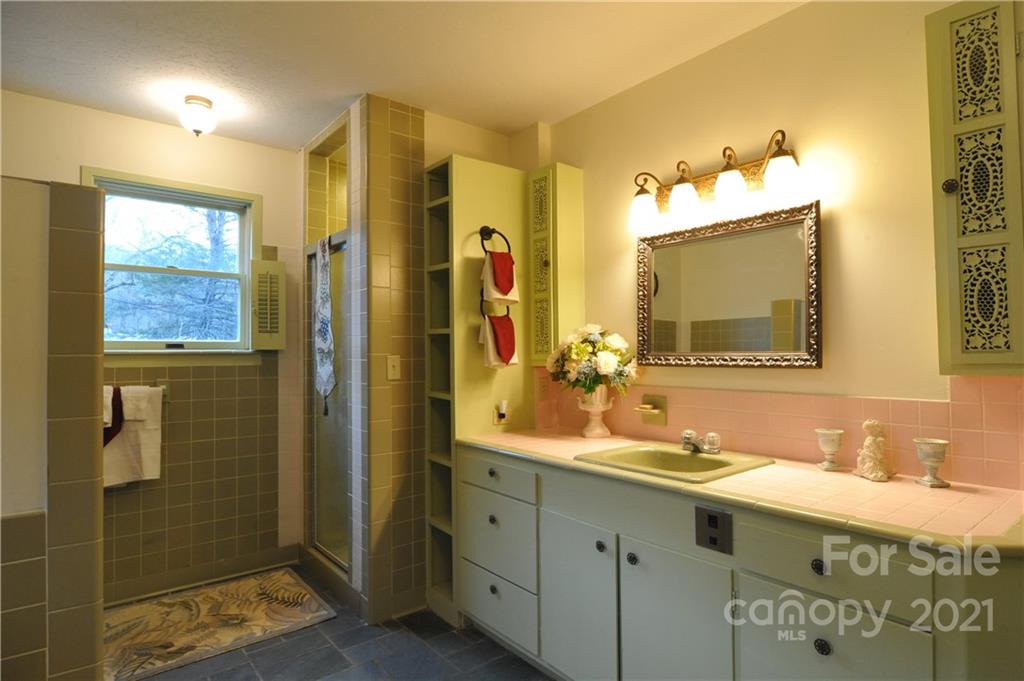 Much cabinet storage surrounding the sink area. Windows with shutters.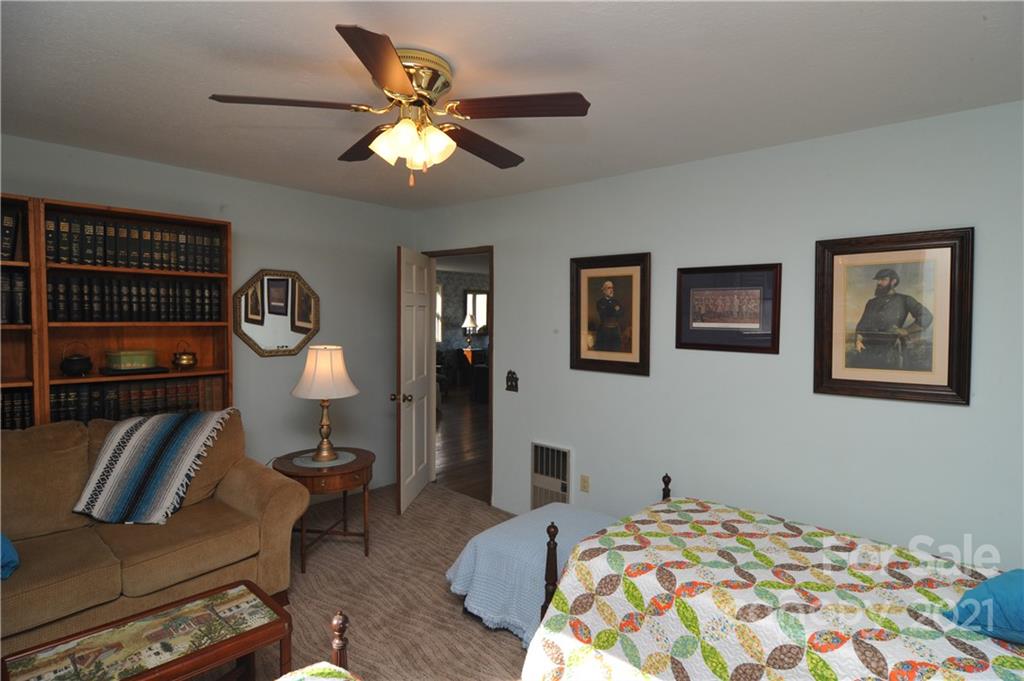 Master Study adjacent to Master Suite with spare twin beds for guests with children. Old vintage photos ofConfederate leaders found in the house.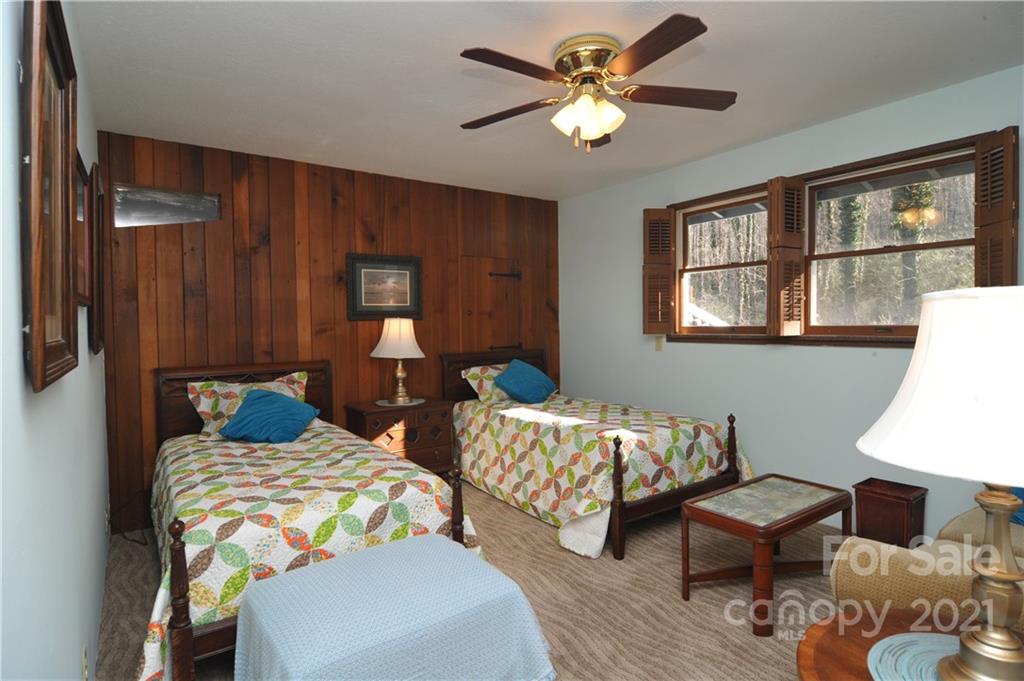 Rear views of property from shuttered windows. New nylon carpet for flooring.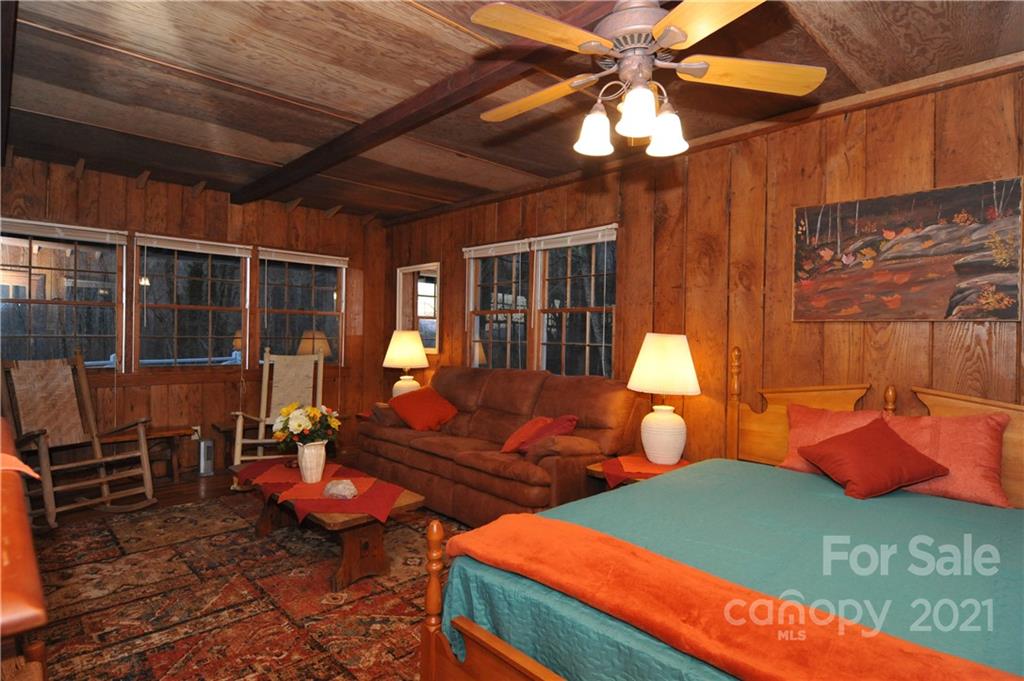 Cabin suite with massive deck outside. Multiple windows for extensive views. This guest cabin is closest to Hickory Springs Creek, which can be heard from the deck. Oak paneling and floors.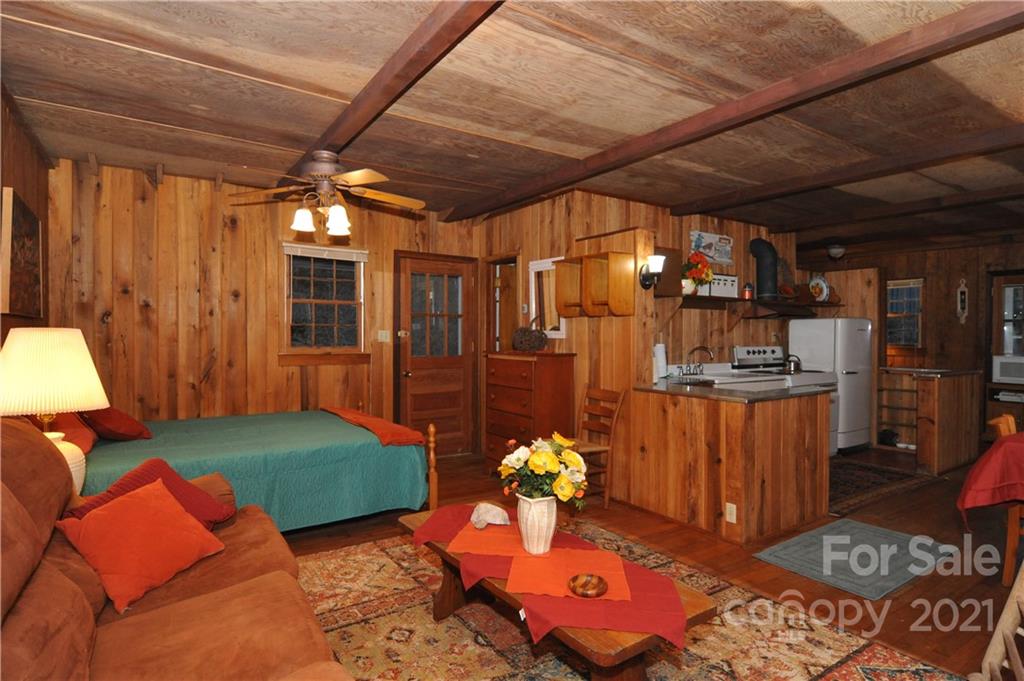 Guest cabin's rear entrance and bathroom door. Vintage Kitchenette faced to Dining area.
Dining area has large window views.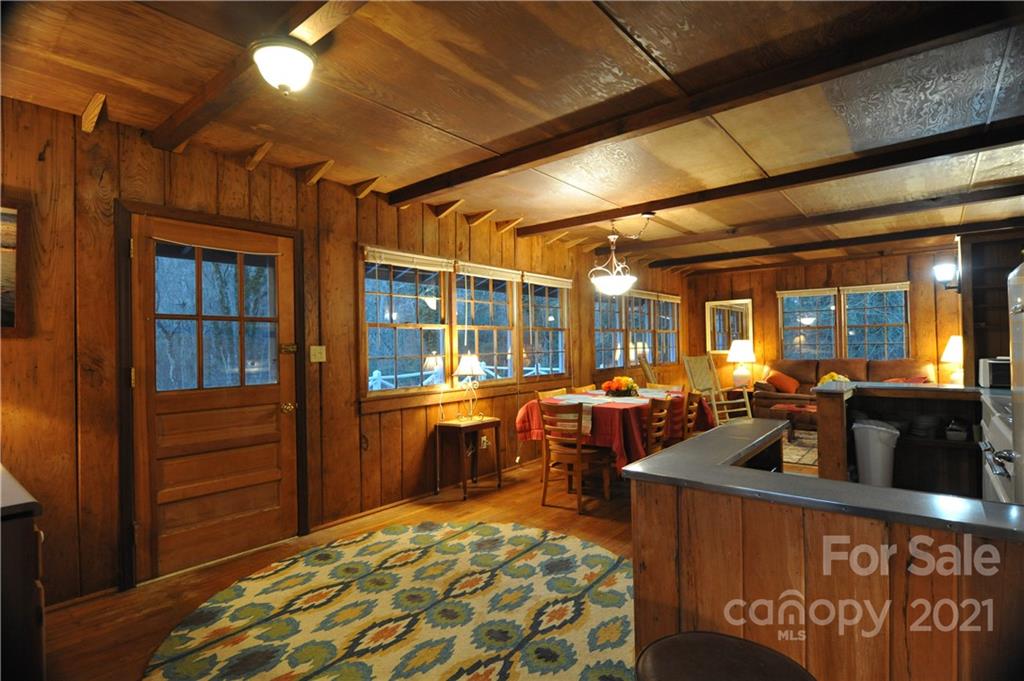 Woodsy cabin ideal for guests, extended stays, workers or helpers.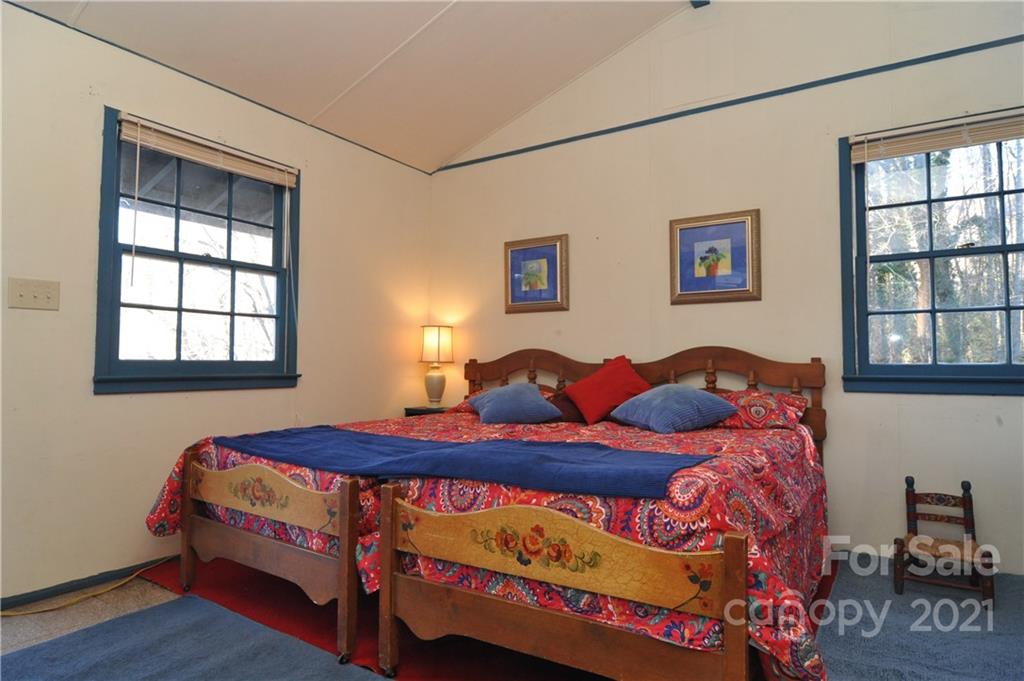 Small cabin nicknamed the "Sleeper House" for extra guests. 2 twins and a a full bed with bath.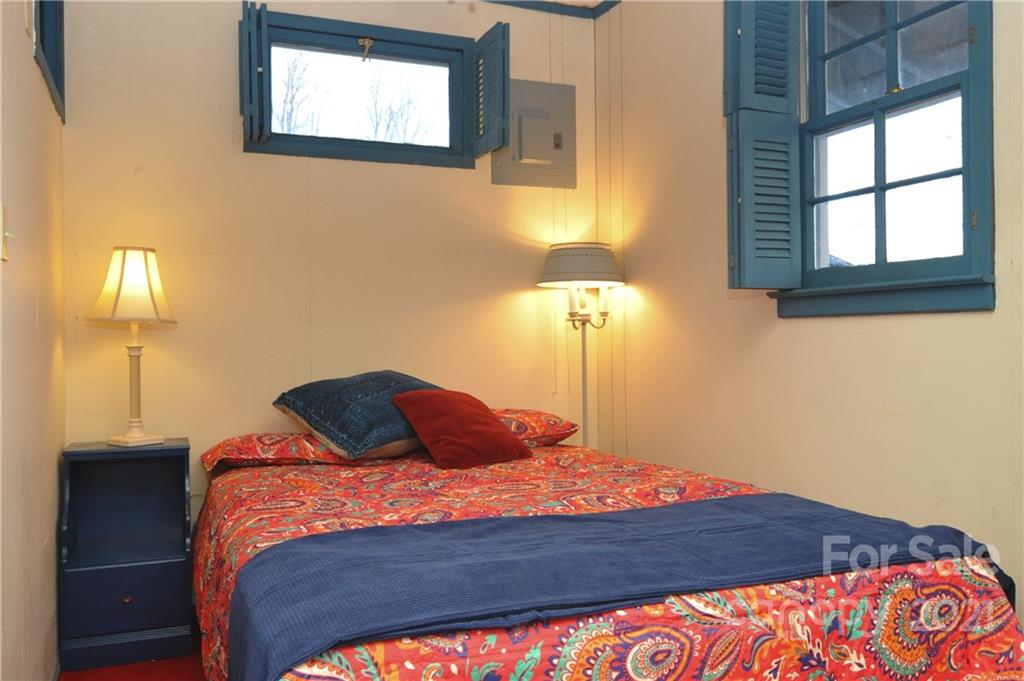 Alcove just big enough for a full bed.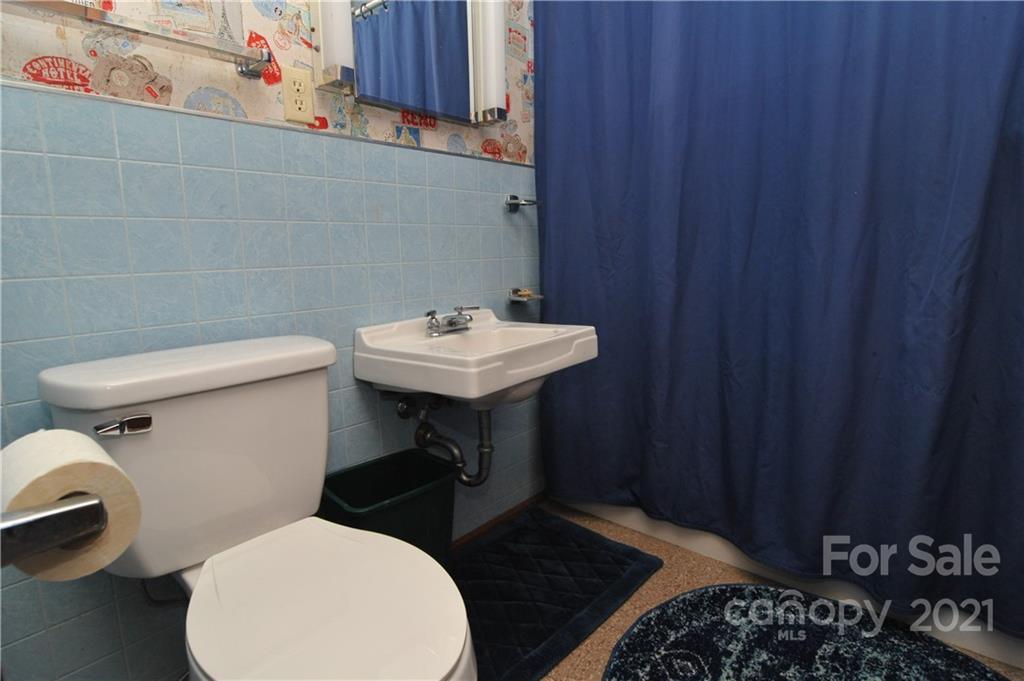 Bathroom to the Sleeper House.
Garage level single bedroom connecting Garage with Living Area.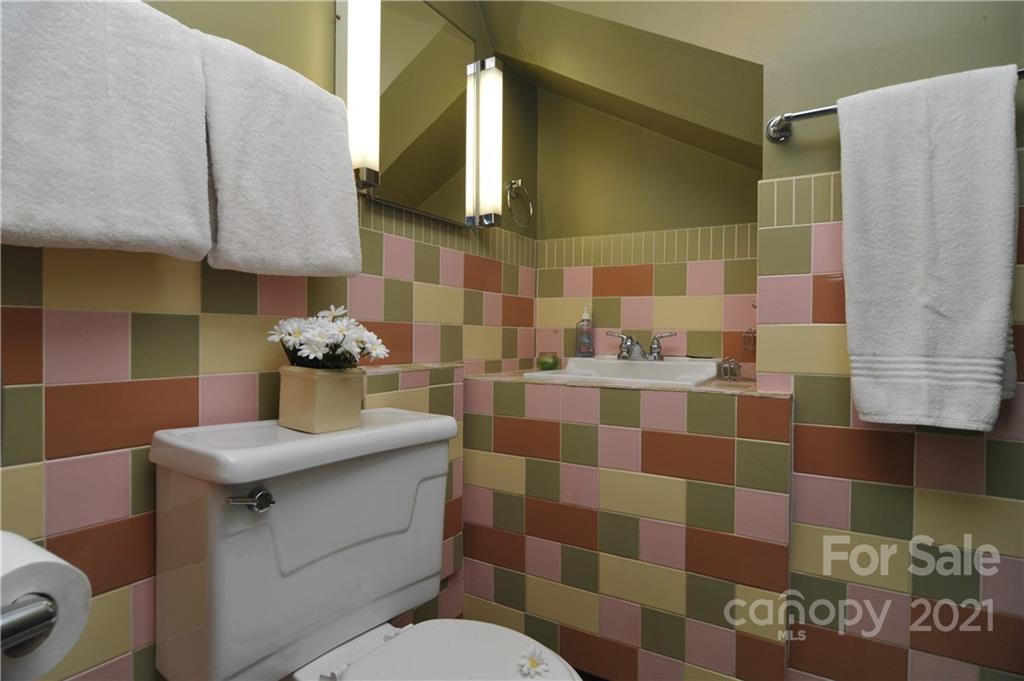 Garage level Bathroom with vintage tile in unexpected color tones. Shower included.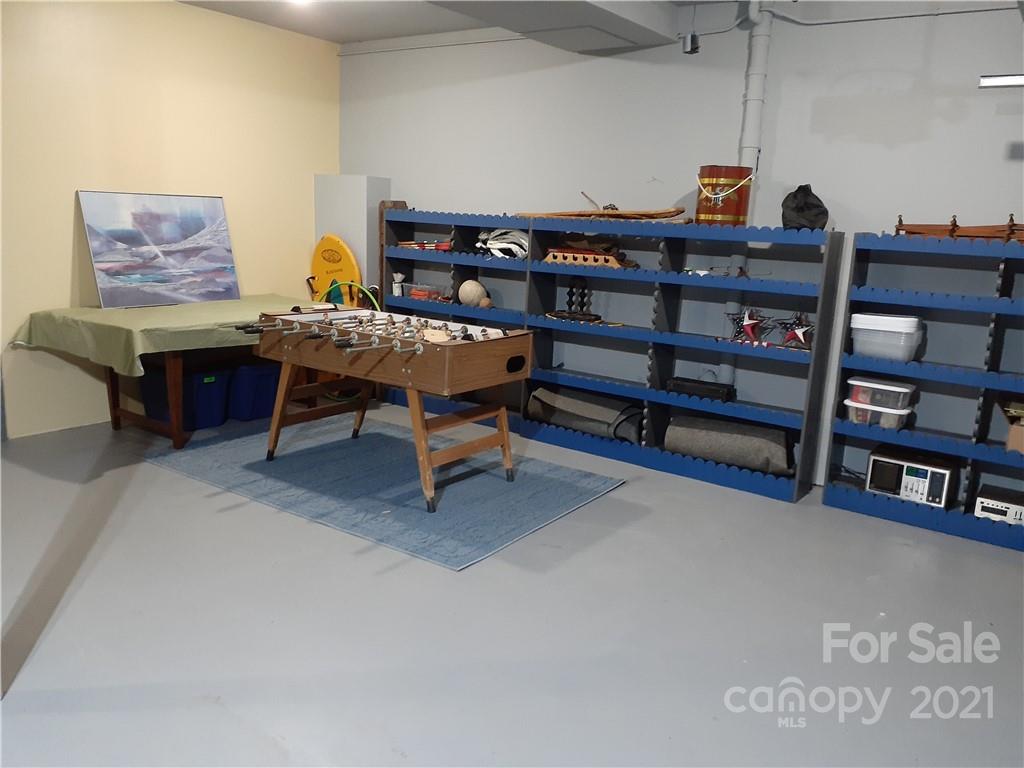 Corner of double Garage set up as a play space for foosball or other.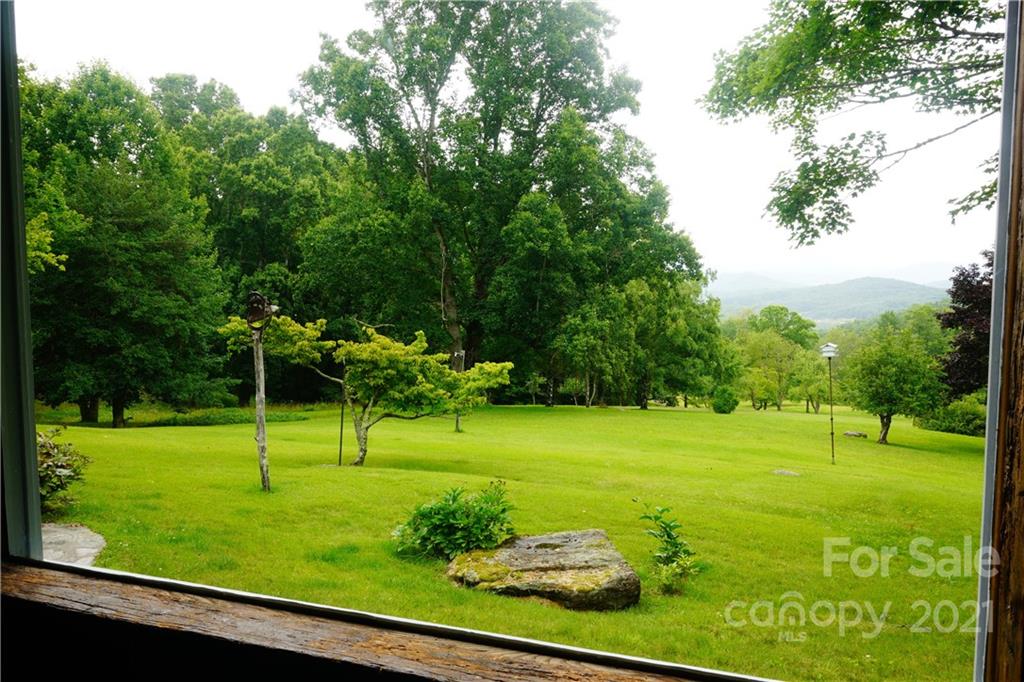 A summer view from the great room frontwindow.